Journal:
Ventana
Surfboards
&
Supplies:
A
Reclaimed
Perspective
on
Craftsmanship
Santa Cruz is ripe with surfboard shops, shapers, and suppliers all producing the finest products for their trade. Recently, a new shaper has come into the scene with a vision to create a surf company focused on craftsmanship, responsibility and adventure. Martijn Stiphout is the master craftsman and board design visionary for Ventana Surfboards & Supplies. He was born in South Africa, lived in Germany and the Netherlands until finally settling in California in 1993. Co-founder David Dennis drives sales, marketing and surf supply innovation for Ventana and shares a strong passion for the ocean, surfing, and conservation. Ventana Surfboards & Supplies sells hollow, reclaimed wooden surfboards; bodysurfing handplanes; and eco surf supplies that are loved by adventurers everywhere.
When asked why they chose Santa Cruz as the home for their business, David Dennis said, "For us, the ocean is a huge draw. We're a surf company, and Santa Cruz has some of the best surf in the world. From a business perspective, Santa Cruz is large enough to provide a great deal of revenue opportunity, but small enough for our company to really stand out. We've also found the local government to be supportive and collaborative. Finally, environmental and social responsibility are important to many people in the community. That's a big focus for Ventana, so Santa Cruz is really a perfect fit in that regard."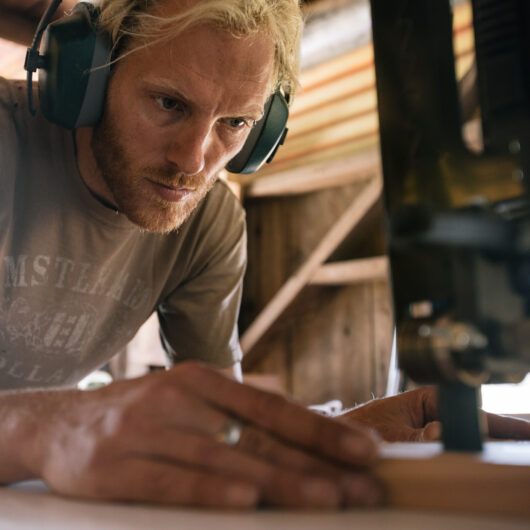 The business climate in Santa Cruz is tremendous. Santa Cruz is going through something of a sustained renaissance. — David Dennis
The closely knit business community in Santa Cruz plays a large role in the success of an innovative company like Ventana.
"The business climate in Santa Cruz is tremendous" Dennis said. "Santa Cruz is going through something of a sustained renaissance. The amount of economic development and the level of success being seen by new and existing business is quite amazing. We also find people and businesses in Santa Cruz to be very open, welcoming and helpful. There are lots of networking opportunities, and businesses realize that investing in each other's success is good for the local economy which, in turn, is good for them. For Ventana, without strong local business collaboration, we wouldn't have a company. In a very short period of time, we've built deep partnerships with many businesses and non-profit organizations. We support each other and work together to amplify our marketing and public relations impact. One of the contributions we've made to the local business community is something we call the Ventana Upcycle Partner Program. We've partnered with many local companies to turn their waste products into surfboards and surf supplies. We've received a great deal of publicity with that approach, and our partner organizations have as well. Collaborating to turn trash into value is the kind of unique approach to business you find here."
The material Stiphout uses to create his distinct boards is the major differentiator for Ventana in the saturated market of surf supply in Santa Cruz. Some of their current partners include Santa Cruz Guitar Company, Soquel Vineyards, Khordz and O'Neill to name a few. Not only are they committed to using reclaimed products but they also donate up to 5% of profits to the ocean conservation efforts of Save Our Shores, Surfrider Foundation Santa Cruz, the Friends of the Long Marine Lab and Save the Waves Coalition. A large selection of their products are also being sold at local retailer, Berdels in downtown Santa Cruz.
Dennis commented that in looking towards the future, "The support for what we're doing has been tremendous, and strong sales growth has followed. We're now expanding our wholesale business locally and doing as much as we can to support ocean conservation efforts in the area. We plan to expand our wholesale efforts and our online retail focus, but even as we grow beyond Santa Cruz, we plan to keep our headquarters here. We have a good deal of experience traveling and living abroad, but there's nowhere we'd rather call home than Santa Cruz. It has everything we need to grow and gives us a quality of life that's unparalleled anywhere in the world."
Learn more about Ventana Surfboards & Supplies: ventanasupplies.com