Journal:
In
Depth:
Dana
Rader
&
Suna
Lock
When you browse through Stripe or Stripe Men you get a sense of the personality and creative styles of the co-owners, Suna Lock and Dana Rader. We had the opportunity to interview the women behind Stripe, who have worked together to create a retail experience that is intentionally crafted and hand-picked with their customers in mind. Naturally, they finish each others sentences, talk over each other, and most of all laugh. They had the opportunity to reflect on their growth as business partners from taking a risk opening their first store at the height of the recession to now owning two evolving and wildly successful downtown businesses in addition to an established design consulting business.
Please introduce yourself and tells us what you do.
I am Suna Lock and I'm Dana Rader and we own Stripe and Stripe men and have a design consultancy called Stripe Design.
What is it about Santa Cruz that made you decide to open the store here?
D: Well we both lived in Santa Cruz conveniently…
S: Yeah, we both lived here... I think the outstanding thing is given that this is an incredibly creative culture in Santa Cruz and there are lots of artists and designers here, there seemed to be a massive disconnect between that and the shopping experience in Santa Cruz.
D: And we both didn't really have a place we looked forward to going shopping at.
S: There were some interesting one-off businesses here but nothing that kind of collated and curated the best of the local things...
D: ...and kind of captured that vision of all this amazing art and amazing designers in the community. There wasn't a place that was showcasing all their talent.
S: So, we decided that we would make that happen.
What about the design part of the business? Do you call it interior design?
S: The design consultancy runs in tandem with the stores, but it actually preexisted both stores. I am an interior designer by trade and I had an interior design consultancy in London. In 2007, the economy basically tanked and I was working, but I wasn't feeling creatively challenged. I had a thought while walking around downtown Santa Cruz of "where is that creative inspiring space?". I also randomly had a yard sale and merchandised all my bits and pieces from the UK that didn't really fit in here. I made $1000 and talked to people all day and had this really great experience. I came into the house that night and said "I think I need to open a store" and about three weeks later I started talking to Dana about it. Dana was doing her fine art painting degree up at UCSC and was working the front desk at a downtown gym to make money. I had known her for a couple of months, and knew she painted and that she was creative. I also observed how she interacted with people and always seemed to know everybody's name, and I just had this moment where I thought she'd be the best person to be front-facing with people in a business. So, we started talking and a month later we had binders full of images and tables full of experimental products and ideas. Six months later we got the lease on Stripe.
D: And then we began hoarding amazing vintage things.
S: Extreme hoarding went on…
D: We had mid century furniture and all of these pieces to fill the space, so we thought, when we opened in March of 2009
S: We opened with four tables, a tumbleweed, and a few bouncy balls I seem to remember.
D: Maybe one onesie. Two outfits.
S: There was nothing in here, but everything that was here was beautiful.
D: It was quite beautiful.
How did you go about starting Stripe?
S: This is my third business from a startup, so I kind of knew what I was doing. It was a mixture of feeling very, very sure in my bones and then knowing that I couldn't do it on my own. I knew that I wouldn't necessarily be the person-to-person, on the floor individual and that I needed someone like that. That's the role I originally thought Dana would fill, but as we started and the conversation got bigger, I realized that she was this creative genius with a photographic memory and all this other stuff going on. She went very quickly in my mind, within the span of a few weeks, from being my floor manager to my business partner. That was really exciting and really encouraging, and from that moment things just got bigger and bigger and bigger.
How physically we did it… For being terrible with numbers, I am strangely quite good at writing business plans. I can concentrate and get that done, and wrote a very complicated business plan which was originally for an SBA loan. SBA loans were unheard of in 2007/2008 during the crash, and it turned out they weren't giving them out. So, I remortgaged my house, I still can't believe I convinced everyone that was a good idea, but I did. I remortgaged my house, got a chunk of money, and we opened the store. Strangely it was a good horse to bet on. I think sometimes if we actually concentrated at night about what it took to run the business everyday we would stop sleeping, but we don't, which I guess is sort of instinctive.
Dana, how was that experience from your end of things?

D: Oh my gosh, it was so fun. From the opportunity to work with Suna everyday, and getting to plan and execute the entire making of the store was incredible. From our crazy vision, to literally walking around the day before our opening, fiddling and making everything exactly perfectly straight, to then opening to the public and feeling someone was walking around our living room.
S: We'd been so sure for months, and the the night before we looked at each other and went "are we crazy? Is anyone going to get this?"
D: The people who got it, really, really got it and half the community thought we were crazy, absolutely crazy.
S: People kind of laughed out loud, and were thinking "Now? Everyone's closing businesses!". But we've always said, "You can never fall off the floor, right?"
D: Our worst year was our best year. We had no idea what the worst was.
S: We got good rent and people were giving us terms at a time when no one was getting terms on any products because no one was opening. We bought so much stuff on closeout. All of the essential stuff, security systems, mannequins…
D: ...price tags, electronics, hangers. We were able to budget and make it work, and we opened on a dime.
What's the biggest benefit to having a retail store in Santa Cruz?
D: I love connecting with this amazing community and getting to know our customers, all our regulars, and people that travel to Santa Cruz to be in this beautiful community. We get to connect with so many local artists and designers and get to showcase and debut many of them.

S: I think the other moment is that working with the public everyday, people come in and say "oh you're so lucky to live here" and you think, "I really am". You get to see it through other people's eyes. Dana comes in everyday and says "I love my life! Living the dream!" and it's true, so that's really important. We feel really great about having this environment where we can invite people to show their work through the store. If it's handmade and it's got integrity, we will offer a space for people to sell their work or to display their artwork. Its also hugely vindicating when people come to us and want to showcase their work through the store. It creates a real community.
Stripe also has this quality that I love, where the store is like a found treasure, and so much of what we have in the store is like that too. People rummage around and find something here that may not be obvious. The conversation goes "have you been to this cool store? It's down a side street, you might have missed it"….I love that. — Suna Lock
Why did you choose this location specifically?

D: We walked around Downtown pacing the mall several times, and there were two places we liked. One of them was on the main drag, called Jewel's on Pacific, and the other one was this location where we are now.
S: I live on this street and I've walked passed this store a lot and I always thought that architecturally it was so beautiful. and that it had a real presence. It was the first retrofitted building after the earthquake in '89. Thacher & Thompson actually designed the building to be an art gallery. Right at the beginning of our conversations about opening a retail store, Dana said we needed to host First Friday, the local art tour, so we made it part of the original business plan. We reserve wall space for local art, so the store is both a store and a gallery-just as the architects envisioned the space would be.
Stripe also has this quality that I love, where the store is like a found treasure, and so much of what we have in the store is like that too. People rummage around and find something here that may not be obvious. The conversation goes "have you been to this cool store? It's down a side street, you might have missed it"….I love that.
D: People stumble upon us as they park. And after six years we still have a new person everyday that walks in and asks, "Did you just open?" Well six years ago, they say "I must not ever walk down this street" and we say "Well, now you know."
S: I think that feels special to people.
You mentioned that Monterey, Carmel and other places could have supported a store like this. Why did you choose Santa Cruz?
S: We didn't think about another place actually. It wasn't like, "Should we do this in Carmel?" or "Should we do this in Santa Cruz?" It felt…
D: ..natural to open it where we both live and love to be. I came to Santa Cruz in the fourth grade on a family vacation and was sold. I didn't even know what college was but I knew I was going to college in Santa Cruz. I was in love and knew I wanted to live here the second I could.
S: I vacationed here when I was 19 and thought, if I ever had to live in the United States, I'd like to live there. In this serendipitous moment years later, my then husband was offered a job in San Jose and I was like, "ok, if we can live in Santa Cruz."
D: Done. And the rest is history. We both get to call Santa Cruz our home.
So Stripe was up and running, what made you decide to open a second store?
D: Because we're crazy...
S: Dana insisted when we opened that we get this really intense point of sale system. She has this brilliant analytical part of her brain, and wanted something that could show us what we sell the most of or what we've sold this month. We started as a young business doing what I don't think most retailers take the time to do, which is analyzing what we've sold. In our second year we started doing the occasional men's t-shirt for the woman who comes in and buys a lot of things and goes, "oh, I'll chuck something in for my fella" so he doesn't feel bent out of shape about this shopping spree. We looked at those sales at the end of the year and we realized it was this massive growing sector of what we did, so we started building on it.
D: We kept building that little section and the section was growing and growing. Then suddenly we weren't able to have as much women's and children's merchandise, and we were having to sacrifice areas in the shop to make room for the men's area.
S: Then we started talking about, "If we had a men's store, what would it feel like?". It felt like having the second child. You know when you're a parent, you think: I have this kid and I love them so much, if I had another one, would I ever feel the same way. You hear women say it all the time, "how will I love my second baby as much as I've loved the first?" So we hatched another one! And I love them equally. They're very, very different.
D: They're so different, but so fun.
S: It takes a lot of energy at the beginning of making a store, and thinking through all of that was a really good re-connection for Dana and I as well. What's the cash wrap going to be? What's the signage going to be? What's the experience going to be? How will this be different? How will it be the male counterpart of the original store?
D: We said for months, "If I was a men's store what would I be?"
S: Right, or "If I wore this would you date me?". We had a lot of those kind of filters during our thought process. Weirdly, it worked. We were two women who made a men's store. We even have loads of women that prefer it and we have loads of men who still shop [at the original store].
D: It's the more manly, rusticy, outdoorsy version of Stripe.
S: There was a pawn shop two doors down from Stripe and we found out they were moving.
D: The owners had become our friendly neighbors because we obviously saw them a thousand times a day being right next door.
S: And we used to stalk their taxidermy and stuff.
D: We would go in and visit all their gold rings and their weird barber chairs.
S: Then they told us they were moving. The conversation about starting a men's store was also happening at the same time. It was weird.
D: So we asked ourselves, "If we were a men's store, wouldn't we want to be located one door away on the same street?"
S: Yes!
D: Hmmm, yeah let's do that.
S: So we became sort of a Stripe/Falafel House sandwich.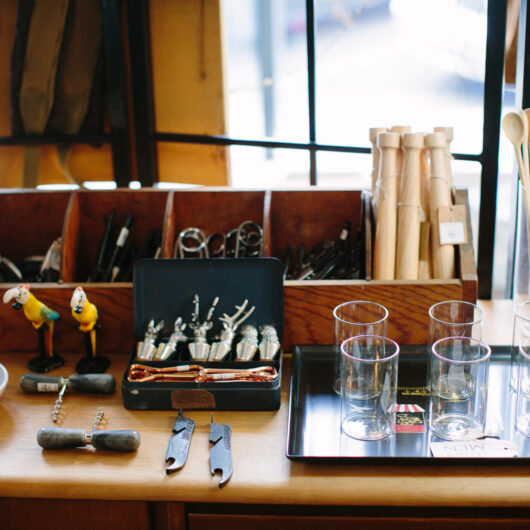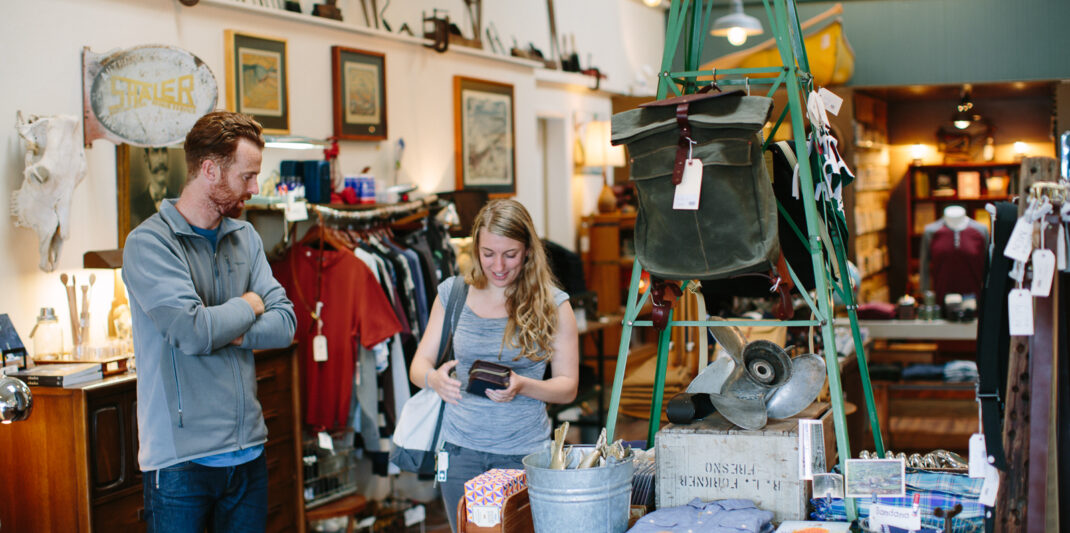 You both weren't born here, but you had visited at one time. What is it about Santa Cruz that was so special that it drew you back?
D: Santa Cruz for me is a super small community, but filled with friendly faces. You are able to go from the great majestic redwoods down to the most gorgeous beaches and everything in between all within five minutes. The environment is incredible. To be able to drive up highway one and get to San Francisco in an hour and then be able to go down to Monterey Bay Aquarium and all these amazing marine sanctuaries. It's gorgeous.
To be able to literally walk out of your doorstep, have a five minute bike ride to come to work and see whales all in the same day is heaven to me.
S: I moved here from London, which is obviously quite a seamless transition... We were originally headed to San Francisco, but four months away from moving I discovered I was pregnant. It changed everything. I started thinking about what life would be like in a city. Having lived in a very metropolitan city, and seen people dragging strollers up flights of stairs, I started thinking about the quality of life for children. I had experienced Santa Cruz and I knew that it was a really great community. When I came back, I still felt the same way about it. So it was a no brainer.
D: And the weather is pretty much perfect. That's not bad either.
What other opportunities do you see here in Santa Cruz?
S: I think this community is ever-evolving and changing. I look at vacant retail space that comes up and feel concerned, but then that gets filled. Just at the end of the street, for example, we have a new really exciting independent business, just two doors away. I think it's happening more and more. There is such an incredible energy here. More corporate businesses are considering this as an exciting marketplace, and their employees don't want to live in San Jose or commute over the hill. I think we will also see restaurants that start to consider Santa Cruz as a viable opportunity, and we will have new people coming into the area-not just local enthusiasts.
D: It's great to see small businesses that are now expanding. Lupulo [Craft Beer House] is taking over a whole other part of the block and it seems like people are flourishing which is really, really fun to see.
S: The Glass Jar company with Penny Ice Creamery and Assembly. There are a few really exciting bubbles here.
D: All these businesses that have started small and keep growing, this community is here to support them and they all are embracing it.
To be able to literally walk out of your doorstep, have a five minute bike ride to come to work and see whales all in the same day is heaven to me. — Dana Rader
What's your relationship to the overall business community?
S: Really good. I think at first, because of when we opened and because we were so optimistic, people felt, not suspicious, but a little concerned that we may have been quite naive. I was actually more concerned than I think it appeared. You know, you walk into our store and it looks like a crazy bedlam, but it's actually a very curated, put together, well-thought out space and I think that's a microcosm of the idea. I think originally people were concerned for us, but as we made it through our first and second year, I think the community really started to embrace how we grew and felt comfortable coming into the store and asking us "Oh, it'd be great if you carried these things" or "I'd love you to have…" We know a lot about other businesses opening up downtown, we're very supportive of other business and people who come to us and ask us for advice. There are things we would never do again, and we are so happy to impart advice.
D: We're pretty close with a lot of the businesses downtown. And, if someone is not going to shop with us, we'd rather they stay downtown. So if we don't have what a customer is looking for, we send them somewhere else downtown. We would like to keep everyone's money within the community without having to drive to San Jose or San Francisco or somewhere else. We want to keep them here locally.
How's business?
D & S: Great!
S: Business is great. We are up 20% every year. There is going to be a ceiling on it at some point but we innovate our product, we listen to our customers, and we're growing with the community.
D: We've evolved and every dollar we make gets put back in the business to keep it growing, keep it alive, and keep the good vibes going in here.
S: It feels as though it's becoming a bit of a cornerstone; people rely on us. I hear, "You're my go to for a last minute this, or present, or a gift" and I love hearing that as much as I love hearing someone discover the store for the first time. We love it as much as ever.
D: And people making us their first stop on the First Friday art tour and people making that weekly stop in to see what's new. The community involvement and support has been incredible.
What are your plans for the future? If you can tell us...
D: There are a few top-secrets…
S: Traditionally, we have traveled around the country looking at other boutiques in other communities, like Austin or Portland.
D: We look for their local talent and try to discover their little designers and artists and bring their work back to Santa Cruz.
S: So we don't go to trade fairs and get sold to.
D: We naturally discover designers and artists because we want to support them and we like what they're doing.
S: I think another natural evolution is that we are going to start traveling a bit further afield and look for things that are handcrafted and made with integrity that we can import.
D: And make our own things that we've designed and bring them into the store
What advice would you give to someone who is thinking about opening a store in downtown?
D: Do it. Don't think a lot about it. Trust your instinct.
S: Make sure you really know what you're offering is. You have to feel really sure about your personality as a store; you want your store to be well rounded and you have to hold on to that so that personality is clear to your customers.
Where do you see the retail business in Santa Cruz heading overall?
D & S: Growing...
D: With the community growing in population, with more businesses and more people, and people working over the hill but not wanting to live over the hill, there are more people here during the weekday. There's more people here on the weekends using the mountain bike trails and coming to the beach and so many people coming to Santa Cruz just to be in Santa Cruz, and as a result there are more people out shopping and wanting to be a part of the community.
S: There's also plans for a lot of residential opportunities happening downtown, so there will be a growing residential community here. I think we will see, with more people living downtown, the community demanding more retail, more restaurants, and more of a livelier environment. Also, Santa Cruz has realized that there needs to be a healthy balance between corporate tenancy in retail spaces and locally owned business, and that the two things can live together and will help one another. You can't just have a playing field where locally-owned businesses can flourish. When Forever 21 opens in a massive empty space and it stops hoards of teenage girls driving over the hill for affordable fashion and keeps them in our downtown, that can co-exist side by side with stores like Berdels or Stripe.
D: And the mixture of the two brings more people downtown because now they have more places that they can get what they need.
Anything else you want to say about having a retail or design business in Santa Cruz?
S: Personally, I think having moved here from a big city, the joy of having a new business or growing a business in this community is that you can be exciting in quite a small environment. You know, if we had opened in San Francisco or London in fact, we would have been one of many but I think in Santa Cruz there is a joy of success, a joy of locals opening businesses, that manifests in us feeling quite special to our community and to ourselves and it keeps us going, it keeps our enthusiasm going.
D: We've definitely created two unique stores that keep people coming back and wanting to see what's new. We plan on keeping that momentum, and it's been great for us because we're never bored. We love changing it up and we're constantly being inspired and able to execute all of our hopes and dreams.
We feel really lucky to be able to have both our stores in this amazing community. We feel like we are unique and different and able to offer something special to this community and keep these amazing artists and designers out there creating and producing. We get to do our art and create. We are constantly up ladders dreaming up insane projects and then getting to wake up and come to work and execute them everyday.
MORE ABOUT STRIPE DESIGN GROUP:
Stripe is a group of creative professionals with experience in a wide range of design disciplines and creative arts. The brainchild of partners Suna Lock and Dana Rader, we provide an inspirational playground for our customers to find products from some of the best local talent.
Against a constantly evolving backdrop of in house eclectic décor, Stripe sells clothing, gifts, accessories, alongside an assortment of Mid Century furniture and vintage items. Stripe's goal is to offer a curated selection of affordable hand-picked pieces.
To learn more about Stripe Design Group, visit their website: stripedesigngroup.com